Instead of a Rainbow Snippet or a Sunday Small Talk, you get a con report this week ;)
It was a blast. I'm very grateful Shira Anthony put all of this together (and opened her home to us, though I opted to stay at a hotel simply because it was just a wee bit easier on me with my health issues). I've never been on the author selling books side of the tablet. Last month at Ohioana Book Festival I met Laura Bickle, author of
Dark Alchemy
(via Harper Voyager) and we were talking. I was her first sale and it was rather late in the day. I mentioned that I would soon be doing this myself and my greatest fear was not selling anything. She assured me one way or the other it would be fun. She was right.
It was a nice drive down to the con. I've forgotten how beautiful southern West Virginia is even though I've driven it many times (but none recently) as I have family in Raleigh too. I didn't get to meet anyone thursday night as planned because a hail storm slowed me down just enough to get me caught up in the Winston-Salem rush hour, adding just about an hour onto my trip.
Friday was effortless really. Plenty of parking right across the street, preregistration meant just walking in and getting a badge with no more than five minutes of waiting (as opposed to forever and a day, looking at you Boston). Outside of Boston's con, this was seriously the largest con I've been to (I go to a lot of cons, for many years but they're all mostly smallish)
It was not just my first time being an author signing books but also my first time meeting any of my fellow authors, Shira Anthony, Grace Duncan, Sarah Madison & Venona Keys (and Saturday/Sunday William Cooper joined us). It was just a blast. Every one of my fellow authors were very nice and so much fun. I learned a lot from them and even if I had sold nothing I would have come away richer for the experience.
I did, however, sell almost all of
Soldiers of the Sun
and two-thirds of
Kept Tears
so that was great. Having one young man come by and want all of our autographs was pretty damn cool too.
And of course the cosplay. I love cosplay. I cosplayed Chris Mustang (from Fullmetal Alchemist) and Dr. Daria Evans (my steampunk persona for the Airship Athena here at home).
Any money I made went right back into the dealers room and artist alley but I'm good with that. I've been trading my money for magic beans my entire life. Behold: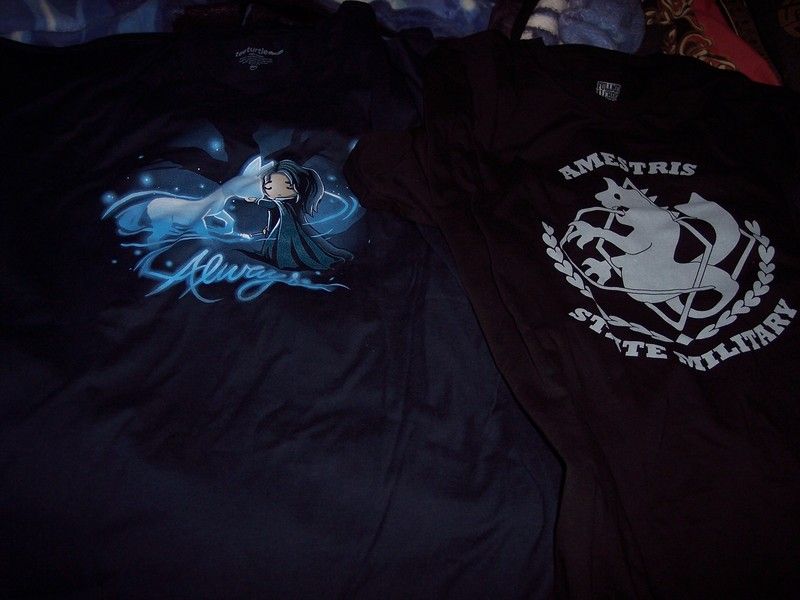 Sadly I probably won't be able to do this particular con next year (my professional con for work is the same weekend usually but maybe...hmm I think it might be earlier or later next year so we'll see). But if I can do it again, I WILL.
I'm looking forward to meeting them and maybe taking up a challenge or two. Grace challenged me to do something outside my comfort zone, something along the lines of a Dreamspun Desire, fluffy contemporary stuff. I might just take her up on that (I do have one other contemporary I started that could be fluffed up and another that's knocking around my brain). I'm not hugely into that but it would be a challenge. I might need a new beta for that (Mine doesn't care for the genre).
Either way, it was a wonderful weekend and I want to do it again!