It started out as a good week. I finished a major scene in
Behind Blue Eyes
but there's been an underlying tension to the whole week. I was frantically trying to pull everything together to go to Animazement next weekend. I got my electronics and one of them failed to work (fixed now) and I still have to see if the printer did my bookmarks/postcards since I ran out of time (and obviously didn't plan as well as I should) for better swag. And then the car developed a major problem on friday and I'm waiting for tomorrow to take it in. I'm praying it's a sensor and not the transmission but I know my luck. I might have to rent a car to go now. I'm hoping this con is fun and worthwhile given all the stress. Sigh. Here's hoping my QR code works as I've never done that before.
So to feel a little less heavy, here's a picture of my roses (which need weeding but that's going to wait until I'm back from Raleigh).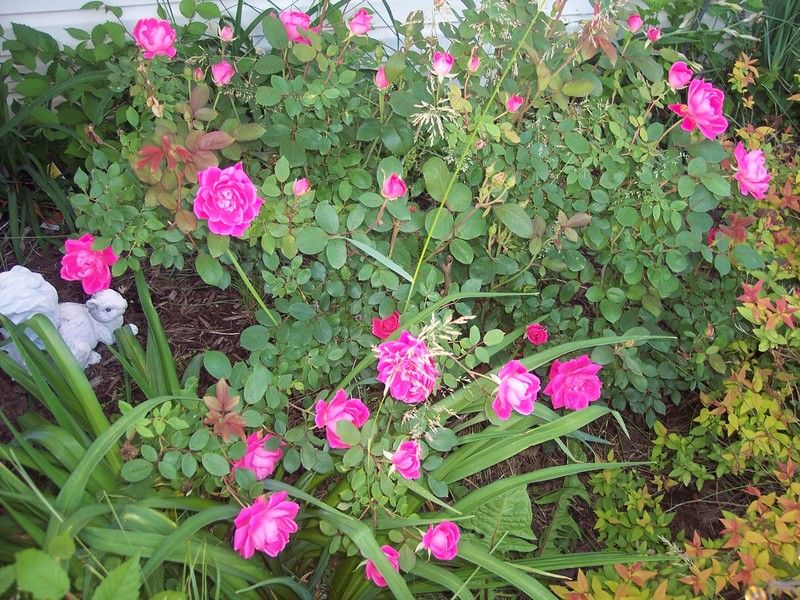 So back to
Behind Blue Eyes
: I finally got that pivotal scene done where Kaleo tells Aneirin and the rest of the Toyless movement about how he was kidnapped and tossed into Toy training...then forgot to actually put in the Toy training details. Head desk. Luckily I realized it after I thought I was 'finished' and not two months from now or something.
And I DID get
Blood Red Roulette
sent in. It'll be weeks before I hear back of course but cross your fingers. Hopefully after twenty years, Arrigo & Luc will get their story.
I've also edited a little bit of the poorly titled Cassadaga Nights using my beta's suggestions, well some of them. They had some more extensive ones too that will require more work than I had time to do between the spring cleaning and getting ready to go to Raleigh. That'll be the first thing I do when I get back (in between the two scientific papers I plan to write for work).
So plenty of progress this week. At least that makes me happy.