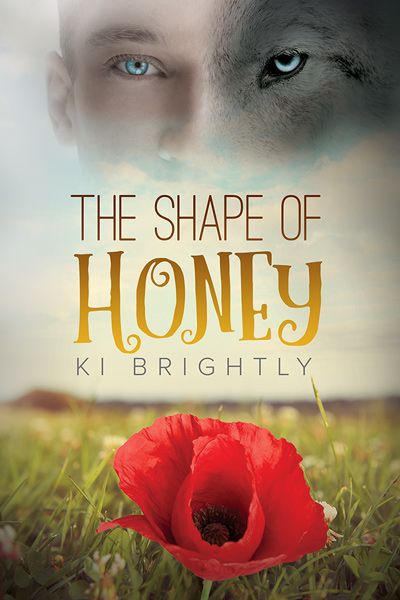 Hi all. Welcome Ki Brightly to these pages. It took me a little while to get this rolling because the last two months have been very nasty ones in my personal life (My apologies for dragging my heels, Ki). Anyhow, Ki's here with
The Shape of Honey
and the characters have answered a few questions for us. And the answers are a lot of fun.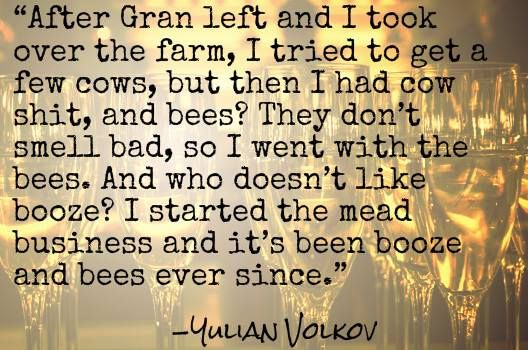 1.
Is the Lake Effect snow happy fun playtime in your wolf forms or do you hibernate in your cozy house?
Yulian:
"Depends on the wolf. I'm all for being out of doors unless the temperature is subzero, but Rolly…"
Rolly:
"Some of us are sane. No, thank you. I'd rather curl up in front of the fire in our living room with Yulian. Snow is cold on the old paws."
Yulian:
"I can see the appeal in your plan." *throat clearing*
2.
Rolly, what was your first thought about being out on the farm? Besides, Yulian, what have you learned to love best about being in the country?
Rolly:
*laughter* "My very first thought? The very, very first one? OH FUCK NO. But, at the time I hadn't been shifting regularly, and I didn't exactly want to be leaving the city. Now? I think I love our beach most. I love being out there, unless it's cold and disgusting outside." *laughs* "I …I also love the silence. Especially at night when the stars are out. It's never really quiet: there's the surf, animals, other members of our pack sometimes…but, it's …uh…primal and stuff. When I first got to the farm all that stillness in the woods rubbed me the wrong way, mostly because being in my own head wasn't always pleasant. Now that I'm happy with my mate? It's cool."
3.
Yulian, while age means a little less to your long-lived kind, is it challenging to keep up with someone like Rolly, who's barely more than a puppy?
Rolly:
"Hey!"
Yulian:
*chuckles* Sometimes. Not the way you perhaps mean…not physically, but …forgive me honig wolf…he thinks about the world differently than I do. He grew up with technology I've never tried very hard to figure out, and I feel fumbling sometimes alongside him.
Rolly:
"I've offered to teach you to use my computer more than once…"
Yulian:
"That you have. He's also surrounded by family, and I had to learn to negotiate them as well as him. It's been a learning process for everyone."
Rolly:
*snorts* Especially Ava.
Yulian:
"My rules keep us safe."
Rolly:
"Yeah, yeah…"
Yulian:
"At any rate, it is not his age that has been challenging, so much as the differences that would exist between any two people. It's been a privilege learning about him."
Rolly:
"You're gonna make me blush over here."
4.
Rolly, have you gotten into Yulian's mead and Yulian, have you tried brewing other types of alcohol?
Rolly:
"I've done the best I can to learn about it. I like it, I mean, it tastes good right?"
Yulian:
"Of course it does!"
Rolly:
"I love your mead."
Yulian:
"Thank you. The fall flavors are Rolly's favorite, but I brewed a small batch of blueberry vanilla for him over the winter."
Rolly:
"How do you know the fall ones are my favorite?"
Yulian:
"You always choose them to serve to others."
Rolly:
"Oh…I guess I do."
Yulian:
"I have made my own wine, of course, and I've tried my hand at microbrewed beers, but I have a small set up in one of my buildings near my house dedicated to mead production only. Perhaps one day I'll spend the capital to expand into something else product wise, but I don't believe in fixing something that isn't broken. For now, Howling Wolf Farm is mead proud."
5.
Yulian, what is about pack life that turned you off?
Rolly:
"Other than Dean being a dick?"
Yulian:
"Honig wolf."
Rolly:
"Sorry."
Yulian:
"It's very violent in the United States—pack life. More of a power struggle. At home…in Europe the packs were much smaller. Family packs. Here the packs are divided by region, much like the nation was when it was first settled, and much larger. That has made my people vicious and less caring of life. Europe wasn't all roses, there were still feuds and wolves still died. My parents died in such skirmishes…but in between…there were parties. Anyone travelling through our territory was welcomed warmly as the family they were. All wolves were brothers during peace. Youngsters were traded between packs until they found mates…it was a happier time for me. I hope to rebuild that warmth in my pack."
Rolly:
"I love you."
Yulian:
"I love you too."
6.
Yulian, what did you see in Rolly that made you decide you wanted to give him a chance?
Yulian:
"He had the balls to live his life. In spite of the back. My love is not a fighter, and he didn't allow the pack to beat viciousness into him."
Rolly:
"Are you calling me a pu—"
Yulian:
"Behave yourself."
Rolly:
"Fine. Are you saying you liked me because I was weak?"
Yulian:
"If you must know, I liked the looks of you and thought I would have my way with you when I got you alone."
Rolly:
"You're full of it."
Yulian:
"Am I?"
7.
Rolly, what's it like being away from the city you know?
Yulian:
"His questions seem easier than mine."
Rolly:
*laughs* It's been okay. Ripley's not very big, so it's not like I can get lost. The locals aren't always my favorite, but Ripley has a coffee shop. If you can get in there when either Thomas or Stevie isn't there that is. If either one of them is at the shop good luck getting Mark to wait on you."
Yulian:
"Coffee? Coffee is all that comforts you?"
Rolly:
"There are other perks."
8.
Between the two of you, which realized he was attracted to the other first?
Yulian:
"I've wanted him for…a very long while."
Rolly:
"The first night?"
Yulian:
"Longer."
Rolly:
"You're creepy. You know that?"
Yulian:
*laughs*
9.
Can you each describe what might be the perfect day for you? And how about the perfect date?
Rolly:
"Oh, I'll go first. Perfect day. Me and Yulian. Beach. Food. Done. Also best date."
Yulian:
"I would add on the day of the full moon, but otherwise I agree. Rolly and the moon on the same day is the perfect combination of sensual delights."
Rolly:
"God. Can you not do that?"
Yulian:
"What?"
Rolly:
"Nothing. I'm just…yeah, the moon is good too. Everything's better with you and the moon."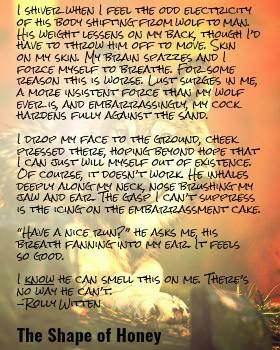 Blurb
- Yulian Volkov is an entrepreneur and lone werewolf who hates the city. At a pack meeting, he learns the only member he's attracted to is being expelled for crimes unspecified. Yulian strikes a deal with the pack leader to allow Rolly Witten to live on his farm and work in his Meadery. Although enjoying handsome Rolly's company, Yulian must tread carefully, since Rolly doesn't trust him and the pack doesn't acknowledge homosexuality exists. Meanwhile, Yulian stealthily courts Rolly by teaching him the value of his wolf side.
Rolly, who's known he was gay since he was a teen, has accepted a life of solitude—and a life of crime. He has no desire to relocate. Yet Yulian's trust in his ability to do honest work builds his confidence. As life is settling well for them, Rolly learns a friend from his old pack had a crush on him, and he's torn between returning his friend's feelings or pursuing the budding relationship with Yulian. But that's not their worst problem. Assassins are trying to take out both wolves, and they need to figure out who wants them dead or all the trust and happiness they're building together won't matter.
(
Collapse
)