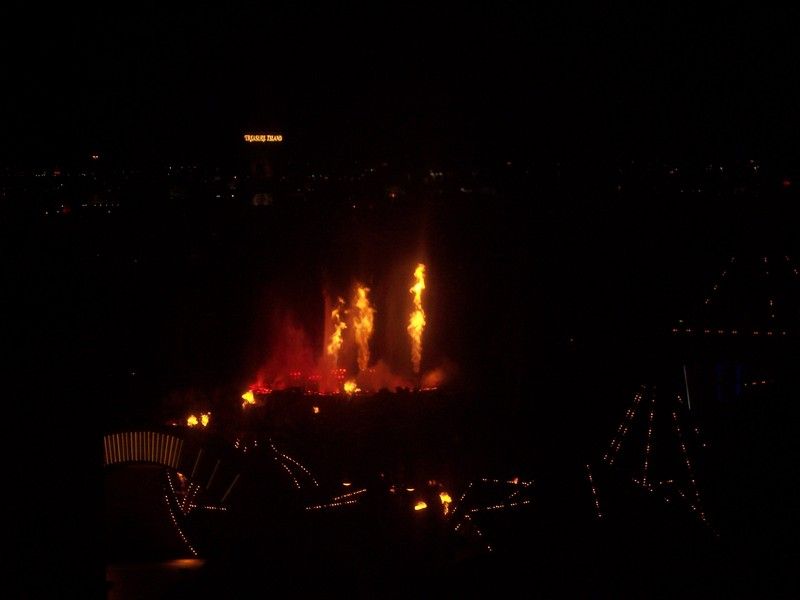 Since I've spent the week editing my Vampires in Vegas and this particular attraction playing a role, have a little view of the Mirage's volcano (as taken from my balcony when I was staying at Harrah's). Hopefully I captured the feel of it well in the story.

I am in that 'omg editing sucks' phase of it but I'm making great headway (with great headaches). I've done the edits up to about chapter 18 but it's getting harder as this is the newer stuff that hasn't been looked at since it came spilling out of my head. There's much more to do which is slowing me up (as is real life and real laziness).

I think I'm going to have to revise my schedule. I'm pushing my self imposed deadline back to the end of March. I hate that reality. I hate it even more since it probably means I won't have a book out this year. Ugh. I'm doing my best, going my fastest but if I said that, it would be partially a lie. I'm too easily distracted.

And I DO have to finish writing my Weird West story yet. My confidence has been shaken pretty badly. I haven't regained it yet but I'm working at it. It would help if I wasn't ramping up my research in my lab. The paying job has to come first, then PT and then I'm so whipped writing is hard.

I will say I printed out the scene I've been working on for TWO weeks, nearly three and it's less than four pages and it's not as bad as I thought. That's helped a little. It's trying to determine how much Tsela will tell Isaac on their first real conversation alone. Also I'm trying to determine how much I need to be in the villain's head. I even sent out a few emails to my romance friends asking about it.

Then it occured to me SO. MANY. urban fantasies are first person. We never see inside the villain's head. So why in the world would I need that in a short story? Tsela fighting against the skin walker should be more than enough.

That takes off the pressure.

Okay back at it.