Say hello to Ioana Visan who is here with the information for her latest release: the Law & Crucible stories. Check it out and there's a giveaway too!

Law and Crucible Saga 1 & 2 & 3 by Ioana Visan

Release Day Blitz Date: December 15


Series: Law and Crucible Saga

Titles: No Port to Land, Point of Origin, Bonds of Steel

Author: Ioana Visan

Release Date: December 15, 2015

Genre: Science Fiction, Space Opera

Length: Novella, short story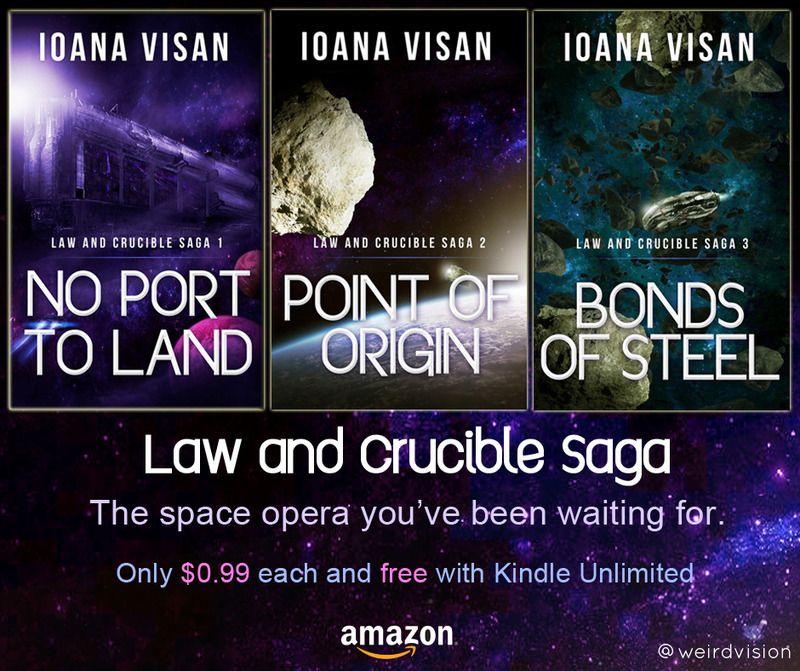 No Port to Land

Nia is one of the few souls left aboard a drifting tomb known as The Pacific. The spaceship carries a deadly plague, and by the time they receive a distress call from an approaching shuttle, they are all close to losing hope they might ever escape alive. When the will of the shuttle crew and that of the survivors on The Pacific clash, Nia has to pick a side to save what she holds most dear.

Goodreads: here

Amazon: here


Point of Origin

Suffering from neural degeneration, Thea is fading away in an asylum with no hope of ever leaving it.

When Captain Law offers her an opportunity to board his ship in return for her help, the astrophysicist is faced with having to learn to trust them or end up in another asylum with slim chance for recovery. And then her secret will be lost.

With a contract that they are desperate to obtain and a rogue asteroid in enemy territory, Captain Law and his crew must keep Thea free from harm, but a missing crew member and a band of misfits thwart their efforts and send them on a mission no one was prepared for.

Can Thea and Captain Law learn to work together for one goal or will long-held secrets and mistrust shake their resolve and destroy their efforts?

Goodreads: here
Amazon: here


Bonds of Steel

On a routine trip across the asteroid field, the robot, Del, and unregistered AI, Vee, meet trouble. With Captain Law and his crew having been put into stasis, their only chance of survival will mean placing themselves at the mercy of what few resources they have. Without a human to assist them, Del and Vee will be vulnerable and so too will the ship and all the lives on board.

Despite their best efforts to avoid unwanted visitors, another ship is en route. Their arrival does not guarantee the safety of those on board, and may ultimately lead to their demise.

With his position on the ship on the line, can Del stave off an attack or are their deaths inevitable?

Goodreads: here
Amazon: here


Price: $0.99 each
Free with Kindle Unlimited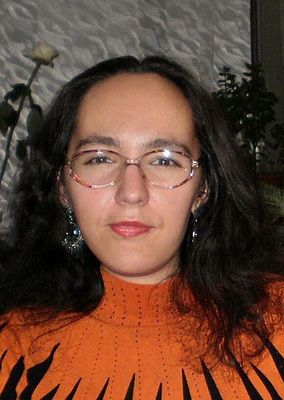 About the Author:

Award-winning writer Ioana Visan has always dreamed about reaching the stars, but since she can't, she writes about it.

After fighting the apocalypse aftermath in Human Instincts, she played with shapeshifters in Blue Moon Café Series: Where Shifters Meet for Drinks, she dealt with vampires in The Impaler Legacy series, she designed prosthetics in Broken People, and she helped wingless fairies in The Weight of a Wing before tackling a space opera saga.

Aside from publishing short stories in various Romanian magazines and anthologies, she published a Romanian short story collection, Efectul de nautil, and the Romanian edition of Human Instincts.

She received the Encouragement Award from The European Science Fiction Society at Eurocon 2013.


Social Links:

Website: http://www.ioanavisan.tk
Blog: http://weirdvision2001.blogspot.com
Facebook: https://www.facebook.com/AuthorIoanaVisan
Twitter: https://twitter.com/weirdvision
Amazon: http://amazon.com/author/ioanavisan
Goodreads: http://www.goodreads.com/ioanavisan



Rafflecopter Giveaway Code:

a Rafflecopter giveaway


Alternate link: http://www.rafflecopter.com/rafl/display/bf37c9104/?