100 Things #77 -New Projects
I hesitated a bit wondering if I should. I actually already have a demon hunting series that is m/m/m but this is much different (my Soldiers of the Sun series has no vampires, werewolves etc. Just demons and demon hunters). I like that the characters are just a bit older and it sounded like a fun prompt. It had a nice bit of meat on the bone without being so exacting that it's daunting. You can check it out below.
Here's the picture. It's the guy in the middle that caught my eye. I'm actually not a blond fan (I love dark hair personally) but he has presence.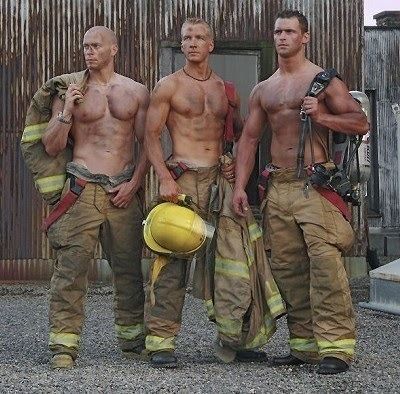 Three alphas will probably end up with head butting. I see an organization bringing all three groups together, sort of like the Watchers from BtVS. I'm not sure what to name it because I've done this sort of organization in several places and I've run through all the names that easily spring to mind for me.
Not really sure how the fire fighting is going to get worked in yet but I at least know how it opens and what the roles of two of them are. The werewolf is alluding me but I'm thinking he'll be the youngest, maybe fresh back from Afghanistan.
I'm setting it locally which should be fun.
The thing that scares me most (besides time crunches) is coming up with a title and character names early. Oh the wailing there will be. I hate putting titles on things.
I did decide to go with mage (Druid in particular) over fae since the idea of the three is a powerful symbol and since it was part of the prophecy (which I like and plan at the moment to use as written by the requester) I thought that would be more fun.
Now to inform the boys they need to pick their damn names up front. No going through the story as XXX until I can pin them down (seriously, Geminis don't make decisions easily some times. We're of two minds).
In their way, the boys will function as a 'rescue glove' for the Athens area.
Dear Author,
The Prophecy:
Three to join – each a different race
Three to join – a saving grace
True to heart – one of blood, one of tail
True to heart – one of magic, they will not fail
Hold back the tide – with swords and shields
Hold back the tide – they will never yield
I've long been drawn to mixed paranormal matings, ménages and military stories. So my prompt is all in one…three men (my preference of wolf-shifter, day-walker vampire and magical fae or witch) all of military, law enforcement or clan leadership background. They are fated as "true-mates" and prophesied to bring down an evil (thinking demon horde, but you can go in another direction). Perhaps there is one demon and they fight it together or there is many and each man leads his clan in an epic battle. I would prefer a contemporary setting in which the supernatural exist, and while all the men are "alphas" outside the bedroom I would like at least one to give up control in it.
The picture is not ideal, but perhaps you can use it as a way they all met…volunteer firefighters or an end to the battle. I wanted to show that the characters are older, between 25-30. Feel free to use my prophecy or one of your own.
Because authors can't ever have enough of these. I often have too many of them but I really wanted to participate in this challenge. It seemed like fun (I even thought about putting in a prompt of my own but wasn't sure how many authors did that or was it more just readers. Now I see it's both.) Competitions for prompts was stiff but I did end up with one I liked.