Guest Blogger - Indra Vaughn
The House on Hancock Hill
(love the alliteration there).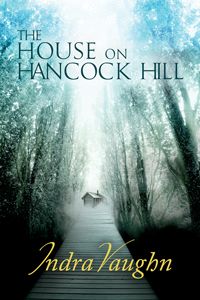 1. How did you get started in writing?
I pretty much sucked at everything else. No, I'm kidding (sort of). But I did do best at classes that involved reading and writing, and I remember a teacher telling me I should pursue it. I also remember a really embarrassing folder with handwritten poetry that will never, ever see the light of day. But that's how I got started, anyway.
2. Where does your inspiration come from for your books/ your characters?
I watch a lot of gay porn. I am kidding! (sort of)
No, I traveled a lot as a child, with my parents and my brother, and being exposed to a lot of different cultures and just people in general gives me a pretty broad spectrum to draw from. For instance I'll remember a random man I saw in a Turkish kibbutz when I was fourteen and he will become a character in a book. It's hard to explain, really.
Apart from that I think I do what every author does, I eavesdrop and I wing it.
3. How do you make the important choices when it comes to writing your stories? Point of View? Voice? Theme? Title?
The theme and the voice generally belong together. When an idea comes to me, which is usually in the shape of a character, those will pretty much be in place, and then I just have to try and stick to that throughout the book.
As for the PoV, that's trickier. I've been experimenting with narrative distance in the book I am currently writing, and it's pretty complicated. For some reason first person comes easiest, but it does limit perspective, and I feel there has to be a reason why this person is telling the story. If I'm just doing it because it's easy, I'm cheating. But then third person brings its own bag of worms. Who is the narrator? How well does he know the main characters? Is he omnipresent or does he only follow around one MC? I could keep going but I think I hear someone snoring in the back of the class.
And then there's the title… I turn to poetry, song lyrics, or sayings. Like I did for All that is Gold. Or I focus on something that runs through the story like a red thread, like
The House on Hancock Hill
4. What do you find the most difficult part of the writing process?
Writing when I don't feel inspired.
It's easy to crank out ten thousand words in the days that creative juices are flowing. It's the days in between when you believe it's a bunch of crock, every word that comes out is utter garbage, you are convinced the story sucks and not even your beta reader is going to want to lay eyes on this, and you still keep going. Those days are tough, and there's a lot of them.
5. Who is your favorite character you've written and why?
I think my favorite character is Henry in
The House on Hancock Hill
. He is Jason's childhood best friend, and he is just such a wonderful, down to earth, 'I know what I'm doing with my life' kind of guy. Halfway through I actually thought about switching to writing from his PoV rather than Jason's but in the end I didn't, because this way he remains a little mysterious, while Jason has absolutely no secrets for the reader.
6. What are you working on now and what can we expect to see from you in the coming year?
I am working on three projects right now. One is the second draft of the first book in my Shadow Mountain series, which is a paranormal mystery. The second is a short story that turned into a long story and that is nearly finished, but I started hating so much I had to put it aside. And the third is a new project I am really excited about. It takes place in Belgium, where I lived until I was 21, and the MC is a nurse who just returned from a traumatizing tour in Pakistan with Doctors Without Borders. He's trying to get his life back on track, but he finds that he has changed and he doesn't fit into the same world as his old college buddies anymore.
There's even a giveaway. You can find it here.
a Rafflecopter giveaway
Blurb
: Pastry chef and bakery owner Jason Wood bakes a mean chocolate soufflé, yet his love life keeps falling flat. He'd blame his past if he wasn't trying so hard to avoid it.
When his family's farmhouse burns to the ground, he's summoned to identify a body found in the ashes. Jason returns to Hancock, Michigan, and reunites with a childhood friend, small town vet Henry McCavanaugh. After fifteen years apart, their rekindled friendship soon develops into much more. But Jason's baggage threatens their blossoming romance, and he leaves town unannounced to escape his feelings—and Henry's feelings for him. He has learned the hard way if something seems too good to be true, it's best to run for the hills. Jason stress-bakes more confections than he knows what to do with before wondering if he's running in the wrong direction.
You can find
The House on Hancock Hill
here:
Amazon:
http://www.amazon.com/House-Hancock-Hill-Indra-Vaughn-ebook/dp/B00IAG5RQS/ref=sr_1_1?ie=UTF8&qid=1391778075&sr=8-1&keywords=the+house+on+hancock+hill
Dreamspinner Press:
http://www.dreamspinnerpress.com/store/product_info.php?products_id=4667
ARe:
https://www.allromanceebooks.com/product-thehouseonhancockhill-1396643-149.html
Hello everyone. Today I have Indra Vaughn here to talk about the book