Guest Blog Post - Kristen Slater
Working It Out
a warm welcome!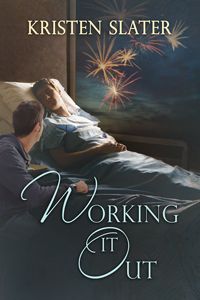 Hello everyone, and thank you to Jana for giving me space on her blog. I'm Kristen Slater and I'm here celebrating the release of my very first published story,
Working It Out
. This post is part of a blog tour during which I'm running a giveaway for a $10 gift certificate for Dreamspinner Press, my publisher. To enter the giveaway, you can comment on any of the posts in the tour
here
and then go to Rafflecopter
here
.
I know one of the things writers get asked is where they get their ideas. The short answer is that we don't really know. But once the ideas start flowing, you can sometimes see things that have influenced them.
In the story I give Joe a bullying boss, called Penny. She has some of the classic signs of a workplace bully. She delegates inappropriately, giving a very junior member of staff a job that she, or at least someone more senior, should be doing. It's hinted that she uses her power to agree (or refuse) leave requests as a way of controlling staff. And she allows it to appear that the staff under her are at fault when things go wrong, rather than it being her fault for not managing things properly. The one we see in the story, however, is her making everyone stay late at work.
So what gave me the idea? Where did Penny come from? Well, she's based partly on a boss I had.
My first 16 years of working life were not good. I started as an office junior in a department that had four senior managers and four people working for them. Three of the subordinates worked for one manager and the other was shared between the other three. All four of the managers were bullies of one type and another, and the poor junior who worked for three of them never lasted long. Although that department structure changed over time and three of those managers left, the worst of them remained.
For 10 years I was sequestered in a small office, just her and me. All the managers above her knew what she was like, but none wanted to tackle the problem. She did the things I've mentioned above. She also did more. Have you ever spent weeks where the one person with whom you spend most of your waking hours is
not talking to you
? I don't mean she was just quiet. I mean deliberately not talking to you. Making it obvious that's what they're doing. Being extra chatty and bright with everyone else that comes in, to underscore how much they're
not talking to you
. It's soul destroying. There was more as well, and it wrecked my confidence and my mental health.
I started that job just as an economic recession hit, making it almost impossible to get another job. So I was stuck there until, after 16 years, I woke up one morning and just couldn't go in any more.
Unknown to me, the job market had changed for the better in that time, and I was soon signed up with an agency that provided temporary workers to offices. All my jobs since then have been temporary to some degree or another, but the thing they've had in common is that they've been in places that were a million miles away from that first experience.
I've now learned the difference between bullying and good natured banter. My current colleagues reckon I could have a second career on one of those naughty phone lines, based on my voicemail greeting. They tease me unmercifully about my "sexy" voice. At my previous place of work they agreed I was "weird". Since another word for that is unique, I can happily live with that. In both instances, it's friendly teasing and they'd be horrified if I was genuinely distressed by it.
But when I needed a reason for Joe to be late home from work, and seriously annoyed about it, Penny the bullying boss wasn't hard to come up with.
It's just a shame that I've named a character based on the worst boss I ever had after one of the best ones.
Blurb
Celebrating six months with his boyfriend has Cas in a bit of a panic. Joe's been saying "I love you" for a while, but Cas just can't get the words past his lips. A week before Christmas, he finally says them when a nearly fatal accident almost takes Joe, and Cas faces the possibility of losing the best man he's ever known. But whispered declarations are one thing. Through a long, tough recovery both men must work out that love is more than words.
You can find the book at
Dreamspinner Press
And you can find me on my blog and on twitter (although not as often as I ought to be).
blog
twitter
About Kristen
Kristen's always spent more time living in the world inside her head than in the one outside it. Since she discovered writing, that world's escaped from its confines and got mixed up with her real life. She's not entirely unhappy about that. Particularly since she gets to admit that she hears voices and listens to them without having to worry about the men in white coats coming to take her away.

Whilst never having any inclination to romantic relationships for herself, she nevertheless gets all misty whenever she sees a wedding or someone announces an intention to commit their lives to each other. It was kind of inevitable that everything she writes turns into romance, no matter what it started out as.

A proud member of the Cloud Appreciation Society Kristen thinks there's nothing wrong with living with your head in the clouds.
It's been a little while since I last dropped by with a guest blogger so give Kristen Slater and her story