Meet Nicole Forcine
This Little Whatever
. It sounds like fun. So stop in to chat with her.
So let's start with a little bit about Nicole.
Interview questions
1 - "Why this story idea?"
I've had the "opposites attract with a one night stand" idea bouncing in my head for a a while, and the archetypes of Jonathan and Dean have gone through a lot of settings and names for going on two years before I started on This Little Whatever.
2- "Is there a story you've been wanting to write for a while, but haven't started it yet? What is it?"
There is this science fiction plot bunny bouncing around in my head with a former pilot and a living ship. I have names, I have some of the lore, what I've not had lately is time to hash everything out :)
3- "Who is your favorite author/why?"
Do I have to pick one? I got so many, but who immediately come to mind are Amy Lane, Abigail Roux, Aleksandr Voinov, Marie Sexton, Andrew Grey, Kaje Harper, I can can go on for days.
4- What do you do when you hit a writer's block?
Nothing breaks my writer's block with one project faster, then working on another project. That habit is SO ANNOYING.
5- Do you have a particular routine when writing?
I go to my local coffee shop, greet the baristas, get a meal and a drink and finish those while updating my email. Once I'm full and caught up, I boot up Pandora and get started.
6- Who is the favorite character you've ever created?
He's in This Little Whatever, and he's not either main character. In writing my novel, I fell head over heels with Jonathan's little friend, Patch. He's short, he's blonde, he plays with fire for a "living" and I can't wait to write more about him.
7. What else would you like us to know about you?
I like my beers dark and my men on each other :)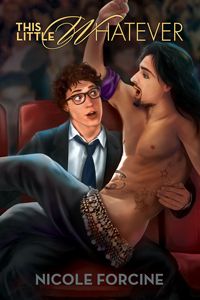 And for a nice blurb about the book, I'm linking you back to Nicole's blog (so you can poke about and learn even more about her!)
A blurb
head here for purchase info
(note this is for the paperback, there is an ebook option naturally)
I'm pleased to host Nicole Forcine tonight and she comes with her new release