Meet Posy Roberts
Blurb for Spark (North Star Trilogy- Book One)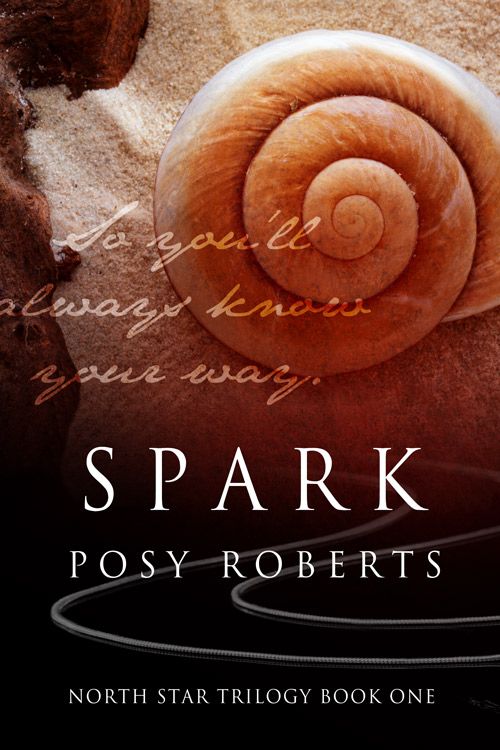 to purchase head here
In their small-town high school, Hugo and Kevin became closeted lovers who kept their secret even from parents. Hugo didn't want to disappoint his terminally ill father, and Kevin's controlling father would never tolerate a bisexual son. When college took them in different directions, they promised to reunite, but that didn't happen for seventeen years.
By the time they meet again, Hugo has become an out-and-proud actor and director who occasionally performs in drag—a secret that has cost him in past relationships. Kevin, still closeted, has followed his father's path and now, in the shadow of divorce, is striving to be a better father to his own children.
When Hugo and Kevin meet by chance at a party, the spark of attraction reignites, as does their genuine friendship. Rekindling a romance may mean Hugo must compromise the openness he values, but Kevin will need a patient partner as he adapts to living outside the closet. With such different lifestyles, the odds seem stacked against them, and Hugo fears that if his secret comes to light, it may drive Kevin away completely.
Considering how early it is, let's start off with some easy questions to ease you guys into this. Who's a morning person?
Hugo: Definitely not Kevin! He's a stumbling fool until he's had at least a cup of coffee. I'm better off not even talking to him until then. I should really buy one of those automatic coffeemakers you set up the night before for when he comes over to my apartment.
Kevin: I'm not that bad. You make it sound like I'm a zombie without coffee. I have to wake up early because of my commute, but I prefer to wake up gradually. Coffee just helps in that process.
Hugo: Dramatically!
How many brothers and sisters do you have? Do you get along?
Hugo: I'm the youngest of two. My sister Charisse and I get along great, but she's five years older so we didn't ever fight over the same toys. The stuff she liked was hardly the stuff I was into. She's actually one of my best friends today, but she was very parental to me when we were kids.
Kevin: I'm an only child, and despite not getting along with my parents, my dad in particular, I liked being an only. I got to do my own thing and didn't have to have my life dictated by someone else's schedule. Well, unless it was Dad's. And I suppose I was spoiled with objects, but I was never given huge amounts of affection by either parent, so I never felt spoiled.
What do you do for a living? If you could have any other job, what would it be?
Hugo: I'm mostly a stage actor and director, but I do voiceover work too. That's exactly what I'd do if I had to do it all over again. I love my work. I'd probably add more voiceover or narration jobs if I could.
Kevin: I sell fertility equipment to clinics and hospitals. Well, I manage a huge team of sales people, and I'm decent at it. I even like it. But if I could pick anything in the world, I'd be a veterinarian. I love pets. Dogs in particular. But Hugo has one other job he didn't tell you about.
Hugo: Fine. Out me in this interview, why don't ya? On occasion I'm a drag queen. When I clip in the hairpieces and paint my face, I turn into Miss Cherrie Pop! But that doesn't happen too often, and I could never make enough doing that.
If I were to walk into a party after you've had a few drinks, where would I find each of you? I'd like you to answer for each other.
Kevin: Hugo would be in the center of the room or with a small group of people telling some funny story about false eyelashes being stuck to his cheek when he performed as Miss Cherrie Pop! or getting everyone involved in a game of charades or something else equally social.
Hugo: Hmmm. That's a hard one. You said a few drinks in him, so he'd already be loosened up a bit and no longer sticking to the perimeter of the room. Professional Kevin would've dissolved into social Kevin. I think he'd either be deep in a conversation with a few people or else watching me being ridiculous. Either way, I know he'd smile at me whenever I caught his eye.
When you disagree on something, do you talk about it, walk away, yell, or do something else?
Hugo: I think it depends for me. I can fight with my best friend Summer about anything until we figure it out. We sorta love to argue and get bitchy with each other, but I'm not worried about losing her because we always fix things. In relationships with men, it depends on what we're fighting about. I'll usually try to argue while still being decent about it. You know, talk things out. Sometimes I don't. I've been known to walk away or read a bitch like the drag queen I am.
Kevin: I hate conflict. I learned early on with my parents that I was better off nodding and agreeing even if I hated to tow the line. But that's also why my marriage failed. Erin and I didn't talk things out like we should've until after we'd decided to divorce. But still, my gut reaction is to run. Now I force myself to face things. I have kids and they bring up conflict all the time, so now I don't really have a choice. It's getting easier to talk things outs.
You were together as teens in the mid-1990's. Were you out to your classmates, to family members, to anyone?
Hugo: I was out to my sister. But at school, no way in hell! I didn't ever date as far as my friends knew. We lived in a really traditional community. Being different was looked at with a ton of suspicion, and I didn't really want to deal with any of that bullshit. I almost told my neighbor once or twice, but outside of my family, Kevin was the only one who knew.
Kevin: I couldn't come out to my parents, especially my dad. Hugo was the first person I told that I was bisexual partly because he helped me figure it out. In the end I could be open at his house, but nowhere else. I learned to be really good at hiding things, even if I ended up hurting other people and myself in the process.
How open are you about your sexuality in your life today?
Kevin: I'm not. Not yet. There's a lot to think about considering Erin and the kids, but I'm going to come out and be honest. Eventually. I mean… I've basically lived the life of a straight man, as far as anyone in my world could see.
Hugo: Kevin, no pressure. You come out in your time. As for me, I've been out since the day I moved away from home. I knew I wasn't ever going to live in the closet again, and I haven't. I live in a really open part of Minneapolis, and I've surrounded myself with accepting people for years.
Marriage equality has come to Minnesota. Do you think you'll ever take advantage of that?
Hugo: Who knows? I mean, we just found each other again after seventeen years. There's a lot to figure out still.
Kevin: I don't know. I don't want to jinx anything. My first marriage failed. Before I'd get married, I'd have to make sure I wasn't going to make the same mistakes. Plus, I have two kids to consider. I don't feel comfortable saying one way or the other, but I'm thrilled it's at least an option for us if we ever want to go down that road.
Hugo: That aisle?
Kevin: You're such a dork.
Hugo: You act as if that's news.
Excerpt:
Since you got to see a little bit of the dorky sides of Kevin and Hugo, Posy wanted to show you their more sensual sides as well. Here's an excerpt from Chapter 21 of Spark. You can read
Chapter 1 here.
They drifted, moving past the end of the dock until they were waist-deep in water, feet planted on the silty bottom of the lake. Kevin drew Hugo's legs around his waist and held him close, loving the feel of warm skin under his palms, loving the kisses they both refused to pull away from, loving the feel of Hugo's firm chest against his own.
It had been so long. So long since Kevin had felt such freedom, such intimacy. He felt put back together, somehow. It made no sense. How could something like this—coming together with a man in a lake under the moonlight—make him suddenly feel whole again? He'd been broken for so long, wings clipped, fire burned out. Yet there he was, floating with a man he had loved, with a man he never stopped loving for one second.
Kevin bit back his thoughts before they bubbled up and out of his mouth to scare Hugo away. He wanted so badly to tell Hugo how he felt, but knew better than to share. It was too fast. Far too much. So he settled on pulling Hugo's bottom lip into his mouth and sucking on it as Hugo's breaths puffed across his face.
With little warning, Hugo pushed away from Kevin and lay back, arms spread, dark hair fanning out in the water. Floating—floating like in a dream. The moon shone down, seeming to light up Hugo's skin from the inside.
Hugo floated, using Kevin's hips as his anchor, and it was awe-inspiring: closed eyes, a kiss-worn mouth, relaxed muscles that seemed to be all fucked out.
Kevin watched as water touched and retreated from Hugo's skin, all the while trying to maintain relaxed breaths so Hugo wouldn't hear how affected Kevin was by the sight. But that was a silly thought; Hugo's ears were under water. Yet Kevin worried.
"Hugo," he whispered, waiting long enough to realize there was no reception of his words. Kevin continued to help support Hugo with his hands spread along his lower back, but he looked up into the sky which was barely interrupted by light pollution like he was so used to in Edina, and he saw light from dazzling stars.
Is this moment real?
He looked back down at Hugo and splayed fingers and a palm across Hugo's chest, feeling the subtle beat of his heart.
"I love you," he found the courage to say to the oblivious Hugo, who had his eyes closed off from the world. "And I never stopped."
Posy's Bio:

Posy's website
Posy Roberts lives in the land of 10,000 lakes (plus a few thousand more). But even with more shoreline than California, Florida, and Hawaii combined, Minnesota has snow—lots of it—and the six months of winter makes us "hearty folk," or so the locals say. The rest of the year is heat and humidity with a little bit of cool weather we call spring and autumn, which lasts about a week.
She loves a clean house, even if she can't keep up with her daughter's messes, and prefers foods that are enriched with meat, noodles, and cheese, or as we call it in Minnesota, hotdish. She also loves people, even though she has to spend considerable amounts of time away from them after helping to solve their interpersonal problems at her day job.
Posy is married to a wonderful man who makes sure she eats while she documents the lives of her characters. She also has a remarkable daughter who helps her come up with character names. When she's not writing, she enjoys karaoke, hiking, and singing spontaneously about the mundane, just to make normal seem more interesting.
Read more at
Posy's website
Facebook:
Facebook
Twitter:
Twitter
I'm very happy to have Posy Roberts on my blog today. She brings with her a taste of her new novel and we get to hear the characters tell their own tale in a little interview with them, which is a lot of fun.